Alius Gloria
December 27, 2016 ·

Jon Solo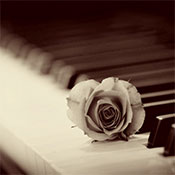 This is not the place for me to rant about 2016. It seems the acting and artistic community got hit really hard with loss. Add my mother to that list. So needless to say it has been a hard year. Life and creativity continue to move on though, and this IS the place to talk about that.
A month or so ago I announced on social media that a new project was in the works. I used the term Alius Gloria in the description which is Latin and can mean "another accomplishment" or even "another album". And that is what this is about. That new album.
Oh...and that is NOT the title of the album. That will be announced on January 1st. But this is just a prequel announcement to say that it is in motion and the direction should be quite thrilling. This will be one of my more ambitious pieces for sure.
Last year on Saved By Their Faith, I experimented with orchestration in a much larger way than in the past. That album was followed up with an album of synth oriented music. Well it is time to head back to the orchestration for this album. Honestly, no matter how long I have been involved in music, it seems there is always something new to learn along the way and this is no exception.
The projected date of release is March 1, 2017.
Check back on the 1st for the title and another sneak peak of the album. In case you missed the first one, here it is Unum Corde: